Elements Financial
A Financial Services Website Design & Digital Marketing Engagement
Summary
Money is about habits, behaviors and relationships. Money is about opportunities, wishes and dreams. Elements Financial Federal Credit Union understands that money is about all these things and more. They're more than just a credit union. Elements provide a variety of powerful financial products and services to help their members achieve financial wellness. Their website engagement focused on finding creative solutions to their members problems, providing tools and resources for them, and building a website they loved.
THE CHALLENGE
Elements Financial's website design goals included: a new design to reflect the evolving Elements brand, responsive design for mobile users across a variety of devices, an updated sitemap based on user behavior and habits, usability review and best practice implementation.
THE INSIGHTS
As part of the rebranding effort, Elements Financial put emphasis on strategic content marketing. They began campaigns focused on Financial Wellness and providing downloadable content, like guides, ebooks, videos, and blog articles. This drove decisions on the homepage design for flexible CTAs and a space that put their blog front and center.


SOLUTION
GIVE THE USER WHAT SHE WANTS

Financial services websites tend to have a ton of information to organize. We moved the user login area front and center, with best practices in mind for frequent users of the site. We updated the design to allow for more promotional areas and flexible content, while keeping a clean and simple look.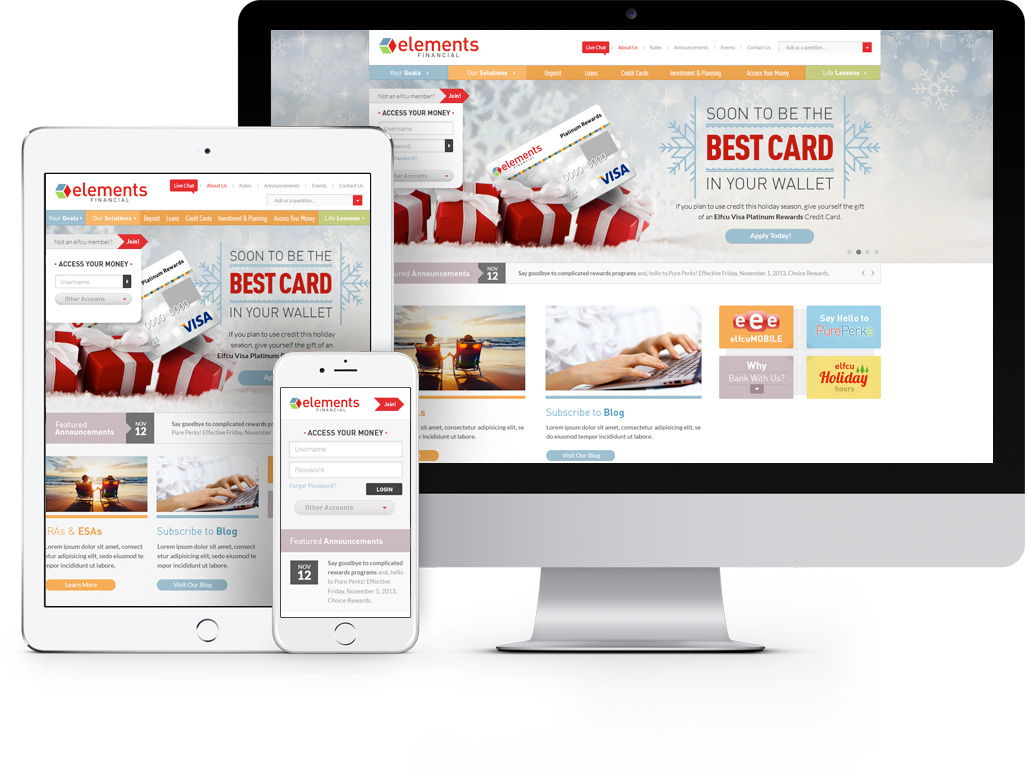 REDESIGN
We organized and simplified a complicated architecture for the site. Easily updatable CTAs in the sidebar of the website allow Elements employees to quickly add new promotions and offers.
We also developed elegant CTA placement throughout the website. Elements can customize and tag their CTAs so that content offers align with service pages. For instance, in the "Adoption Loan" service section of the site, content offers related to exploring adoption and guides for families appear in the sidebar.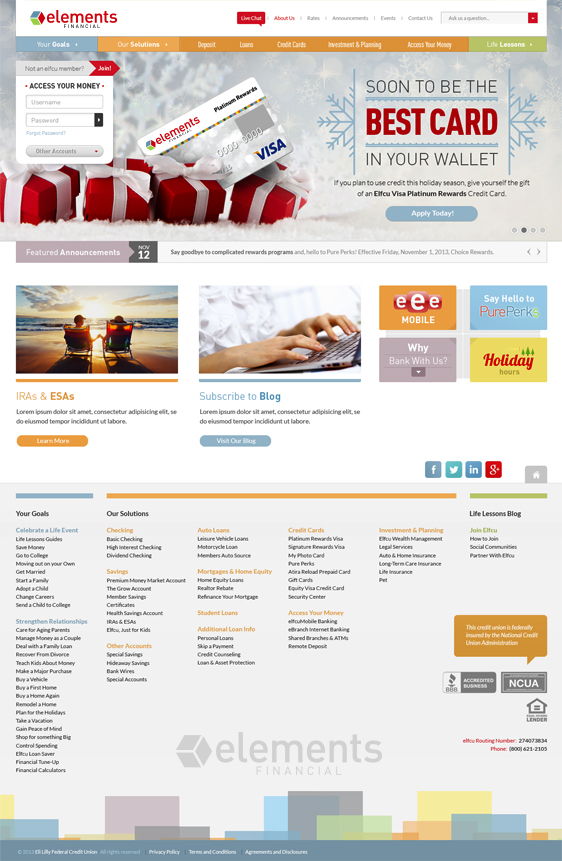 THE RESULTS
Elements believes in transparency with their customers, and giving them the tools they need to make good financial decisions.
In that spirit, we built a custom rates table that dynamically updates every hour to show interest rates.
This element appears on it's own page, but also throughout the site on pages related to loan rates.
We worked closely with the Elements team to create a mobile-friendly, responsive design including five display sizes: phone, phone landscape, portrait tablet, default desktop and large display. The Elements website strategically prioritizes content based on display size, so the user always gets the most relevant content.
The site is designed to grow and adapt to new campaigns and services that Elements will add in the future.

Ready to get started?
Let's Talk.
Take your enterprise website to the next level with a digital marketing engagement or new web design project. We bring more than 20 years of website design and marketing experience to the table.